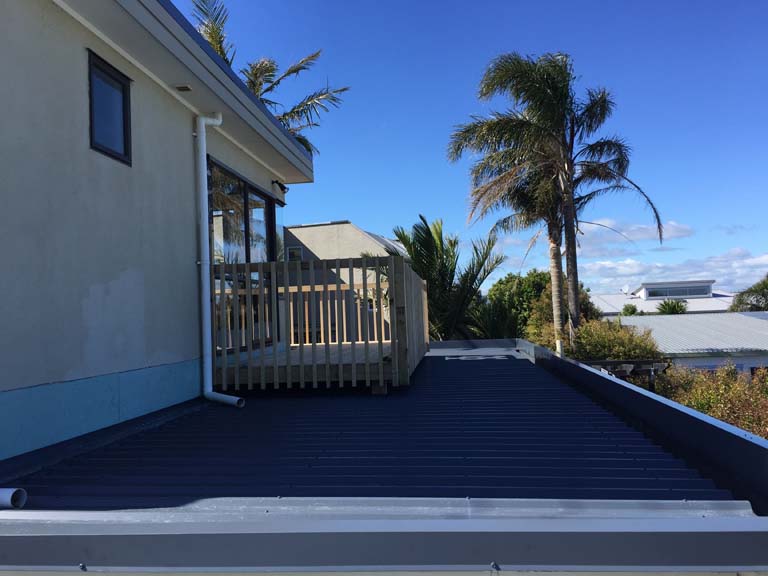 Metal roofing is an ideal choice for property owners who are concerned about improving energy efficiency, and who want to add a distinguished design element to their homes and structures. Although metal roofing sheets are significantly better than shingles for roofing, these still wear with age and need repairing, patching, and re-roofing, eventually. Metal roofing can last decades, if it is maintained properly, otherwise these can prematurely corrode, rust, and then holes begin to form.
Most Common Causes of Corrosion and How It Forms on Metal
The short and basic answer is, they are made of iron-based metal and habitually presented to rain and dampness, henceforth they experience the ill effects of rust corrosion! Rust is an electrochemical interaction that happens on metal surfaces that are presented to the electrolytes. When rusting happens the oxides expand and consume more space than the first material. The powers in this cycle are tremendously harmful to the design enduring an onslaught.
Three components should be available all together for iron oxide, or rust to frame. These components are iron, water and oxygen. You won't be shocked to realize that the primary driver for rusting is water! Oxygen in water and dampness makes iron oxide, commonly known as rust, on any iron mass like steel.
Even though steel structures seem strong water atoms will infiltrate minuscule pits and breaks in uncovered metal. The oxygen which is available in air essentially breaks up in the water which forms a layer of rust. The synthetic composition of rust is Fe2O3.nH2O.
So essentially rust corrosion is an assault that obliterates the metal because of how it responds to the environment around it. Rust happens all the more rapidly with the corrosive downpour and pungent water by the ocean side. Given sufficient time the whole construction will self-destruct and crumble. This is a concern and for sure a significant reason for concern.
The main reason metal roofs begin to corrode and rust is that their protective coating has eroded, thus exposing the base metal to the elements – the sun, wind and rain. There are various grades of metal sheets for roofs available, and when it does come time for re-roofing a home, it is highly advised to always choose the best grade metal sheets possible because they will resist rust and corrosion longer. However, although replacing metal sheets is the best solution for rusty metal roofing sheets with holes, there are times when patching these is best, and the most qualified person to make that distinction is someone who knows about metal roofing, such as expert roofers at Johnson Roofing. For a free roof inspection, and available 24 hour emergency service for the whole Auckland region, call Johnson Roofing, we offers roof repair and re-roofing solutions to fix rusty roofs with holes.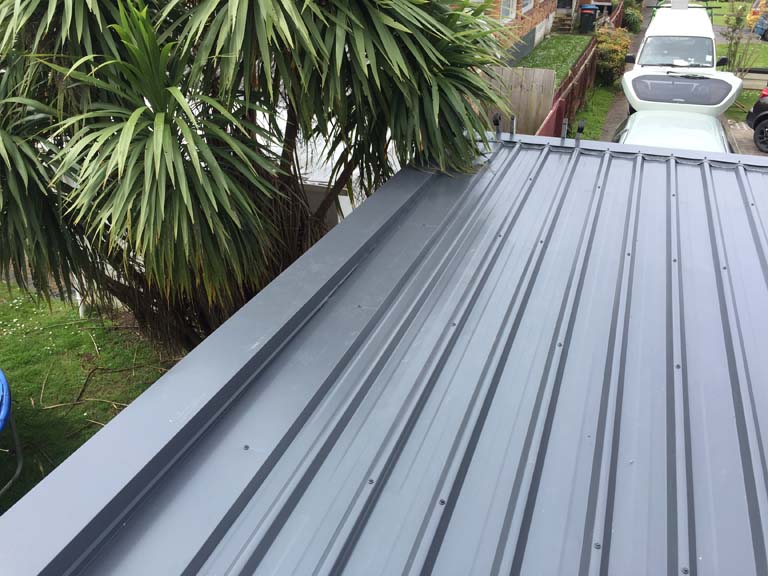 Johnson Roofing specialises in commercial and residential metal roof replacement. Because a damaged roof can lead to leaking and rotting from water damage, potentially thousands of dollars can be saved by reroofing before you have to replace it in an emergency. If your roof has reached the limit of its usefulness, entrust expert roofers from Johnson Roofing to install a brand new metal roof for you.
Professional Roofers Ensures the Safety and Integrity of Your Home
Family's safety is the number one priority. No one can argue with that, and it should be the most influential reason to call emergency repair services when needed. You never know about the extent of the damage until it is assessed by a roofing professional, that's because what looks like a simple leak to you could be the tip of an iceberg of concern to an experienced roofer.
Professional Roofing Contractor Can Do Emergency Roof Repairs in Rainy Weather
When you call on a professional roofing contractor in an emergency, to stop a roof from leaking, they will make emergency temporary repairs, until a time after the rain subsides, and then repair your metal roof properly. Hiring a professional roofing contractor that has a lot of experience is highly advised. Those who may hesitate to pick up the phone and call for an emergency roof repair must understand that serious water damage can be "very" costly, much, much more than the rates a professional metal roofing contractor will charge for an emergency service call.
Entrust Your New Metal Roof with Johnson Roofing in Auckland
At Johnson Roofing, we are experts at new roof installations, repairing old metal roofs, and reroofing to avoid major problems and potential damage before they occur. Johnson Roofing has established a reputation for perfect work performance and fair pricing practices. We offer free, no-obligation quotes, and our service area includes, the entire Auckland region from Orewa to Manukau. Property owners in need of a trustworthy metal roofer in Auckland, need not look farther than Johnson Roofing.
Using high-quality New Zealand sourced metal roofing, installed by the best roofers in Auckland, you are assured that your affordable new metal roof will last more than the manufacture's 15 years guarantee. And, if there are any problems with your new metal roof during this time, you can trust that Johnson Roofing will provide prompt service and solutions.
Whether you need a new metal roof for a commercial building or a residential property, anywhere in Auckland, you can trust Johnson Roofing to help. When you hire professional roofers at Johnson Roofing, no job is too big or too small. Whether it is installing a new metal roof, repairing an old metal roof, scheduled maintenance of metals roofs, or gutter cleaning and replacement, you can trust that you will receive the best roofing services in Auckland.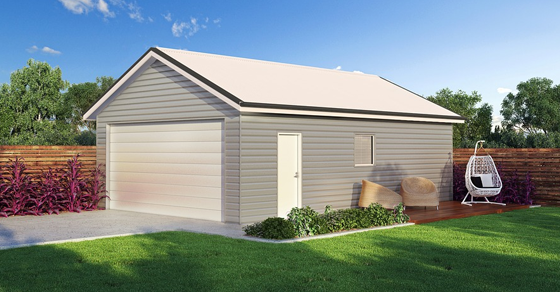 Metal roofing is incredibly common here in New Zealand, and for good reason. With that being said, there are many different kinds of metal roofing out there to choose from. At Johnson Roofing, we pride ourselves on the ability to not only help our customers with their roofing needs but also our ability to educate them. Today, we are going to focus on standing seam metal roofing. We are going to discuss what this type of roofing is, the various benefits and applications, and what you need to do in order to add it to your home.
Standing Seam Metal Roofing
When you look through a catalogue of metal roofing options, your eyes are probably going to be drawn to a standing seam metal roof. This type of roof isn't quite as common as the other types in the catalogue, but it is incredibly useful. You'll note standing seam roofing largely for the way that the metal comes to an elevated point. This is done by way of crimping each seam together into a solid join. Standing seam roofing has a ton of different design benefits that owners of residential and commercial properties are likely to find quite appealing. Let's look at a few different benefits of standing seam metal roofing.
Standing Seam Metal Roofing Benefits for Your Home
Longevity and Durability – When it comes to buying a roof, you don't want to end up with something that will fall apart on you. Standing seam metal roofing is incredibly durable and can last upwards of twice as long as your conventional roofing shingles.
Drainage and Weather Resistance – Standing seam metal roofs are, by nature of their design, much better at handling weather than flat surfaces. The slant of the roof allows for an efficient roof drain to be installed. The slanted roofs also disallow any sort of buildup. This kind of roof can also withstand strong winds upwards of 225 KM/H.
Aesthetically Pleasing – Finally, standing seam metal roofs are incredibly pleasing to the eye. They offer dramatic angles and eye-catching focal points. This is a great benefit if you are running any sort of commercial project out of the building that will have the standing seam metal roof installed.
Installing Standing Seam Metal Roofing
While the DIY spirit is admirable, it isn't the right way to go for this kind of roof. Standing seam metal roofing will require a professional touch in order to ensure that it is properly installed. That is why we specialise in working with standing seam roofing here at Johnson Roofing. With just a phone call you can be on your way to a consultation and estimate.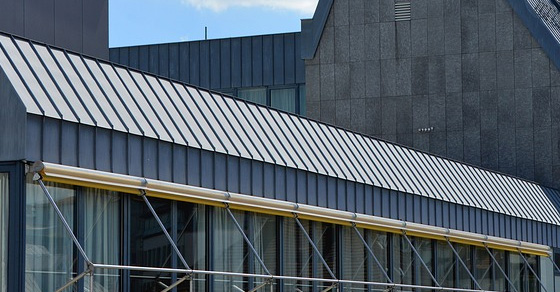 At the point when you talk about roofs, this doesn't simply mean the actual roof itself however every one of the parts that support it. Roofs that are very much supported have a complex arrangement of rafters and brackets, holding most of the roof weight and lay on the assigned inside, load-bearing, dividers. For homes with an exceptional roof shape, brackets are the most ideal decision for supporting a roof. Brackets offer close creation resistances that advantage homes with complex roof outlining designs. One of the primary contrasts among rafters and brackets is that brackets needn't bother with support from parcel dividers in inside rooms since this innovation utilises external bearing focuses to support their heap. Supports are tweaked to fit across the whole width of a home.
Notice the roof from ground level – don't jump on top of it, particularly on the off chance that you presume issues with the hidden support framework. Is the edge straight and even? Do you see spaces on the roof's surface that appear to be hanging? Any clasping and bowing obvious to the eye from ground level are certain signs the roof's support framework isn't up to standard and requires quick consideration.
Roof Support Problems
Roof support issues undermine the security of everybody inside your home. Regardless of whether because of a structure deformity, normal mileage, or an unattended hole, roofs are not impenetrable to hazardous underlying issues, which can cause genuine property harm and real damage.
Sagging Roof
Roof hanging is a common issue found in both old and new properties. At the point when you take a gander at a house from outside, the roof seems wavy and not straight. The utilisation of erroneously measured swaggering pillars or the mistaken swaggering or even the shortfall of swaggers to the under purlin can be reasons for roof listing.
Sagging Floor
An underlying examination will normally show that the roof-supporting framework gets most of the roof load (weight). Henceforth, the roof must support land (rest) on just assigned inside "load-bearing" dividers. Lamentably, numerous developers/composers frequently support the roof propping frameworks on the nearest or most helpful inside room parcel divider. This can prompt long haul floor listing because most floor joists are not measured for roof loads.
Too Much Edges
Edges have an edge board that doesn't offer primary help, all things considered, it goes about as a direction plate for restricting rafters. At the point when an edge board is put in a beam outlined home and isn't non-primary, it is fundamental for the roof rafters to be lapped and associated with the roof joists at the outside divider plate. With the entirety of the covering of rafters and the edge board, the outcome causes a pressure tie across the home. If any piece of the underlying scaffolding of a crossbeam outlined roof isn't precisely positioned, the roof will most likely let the inside dividers lean.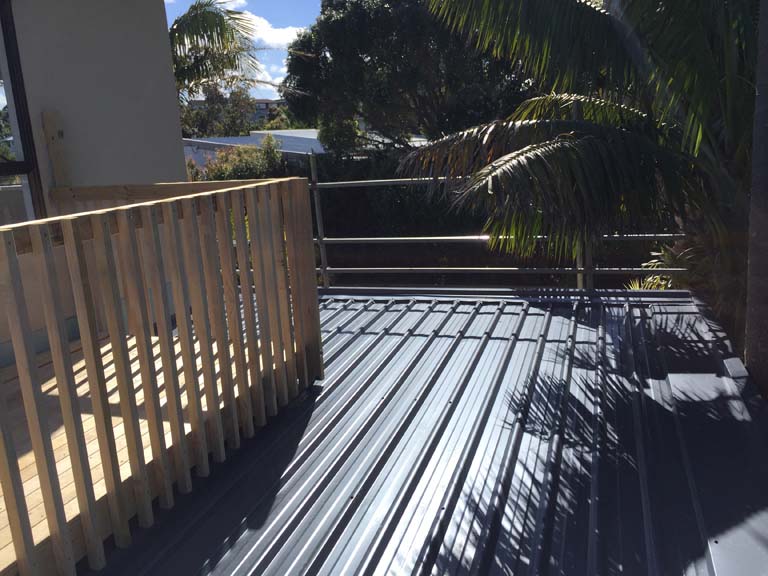 So, you've finally decided to take the leap and have a steel roof installed on your home or business. Steel roofs are one of the most beneficial types of roofs for Kiwis, something we'll get into later, but they come with their own unique set of questions that need answering. One common question that many customers and readers ask us is this: Why is it so important to have insulation for your steel roof? The question crops up most commonly because many people don't realise that you NEED to insulate steel roofs. Let's take the question step by step in order to help get you on the right path.
Insulation for Steel Roofing
There are so many benefits of opting to go for steel roofing with your new-construction or recent renovation. Steel roofing tends to be lighter, longer lasting, and more durable than conventional options on the market. This is particularly important when the weather turns and debris, heavy rain, and hail becomes an issue. With that being said, steel roofing still isn't perfect. You are going to need to add insulation at some point with an ideal time being during the initial installation phase. Now, why is this important?
Despite the many benefits that steel roofing provides, there are some pretty serious flaws. The biggest flaw that metal roofing has is this: you are going to realise pretty quickly that this style of roof is a poor insulator. Both heat and cold will penetrate the roof which will, in turn, make your experience in the building rather uncomfortable. Go walk through a steel-roofed warehouse during winter, one that lacks insulation, in order to see what we mean. You don't want to feel like you are on fire during the summer and freezing during the winter and that is where insulation comes into play.
Choosing Insulation for Metal Roofing
Now that you've decided to add insulation to your steel roofing you are ready to make some choices. What choice do you need to make? Well, you need to decide what style of insulation to install. Let us look at the two most common options.
Fibreglass Insulation
With fibreglass insulation, you are going to also want to add something called an 'insulation batt' in between the roof and your insulation. This batt operates as a vapour barrier which helps to catch the sweat that comes off of your roof when it gets hot.
Polyurethane Spray Foam
A quicker, and less pretty, solution involves using the special polyurethane spray foam. You can apply this to your roof with a thick layer, thus helping to keep out both cold and hot air. The thicker you spray the chemical, the better the insulation will be. If you are still unsure as to how to proceed with your metal roofing insulation, reach out today and we can guide you through the process.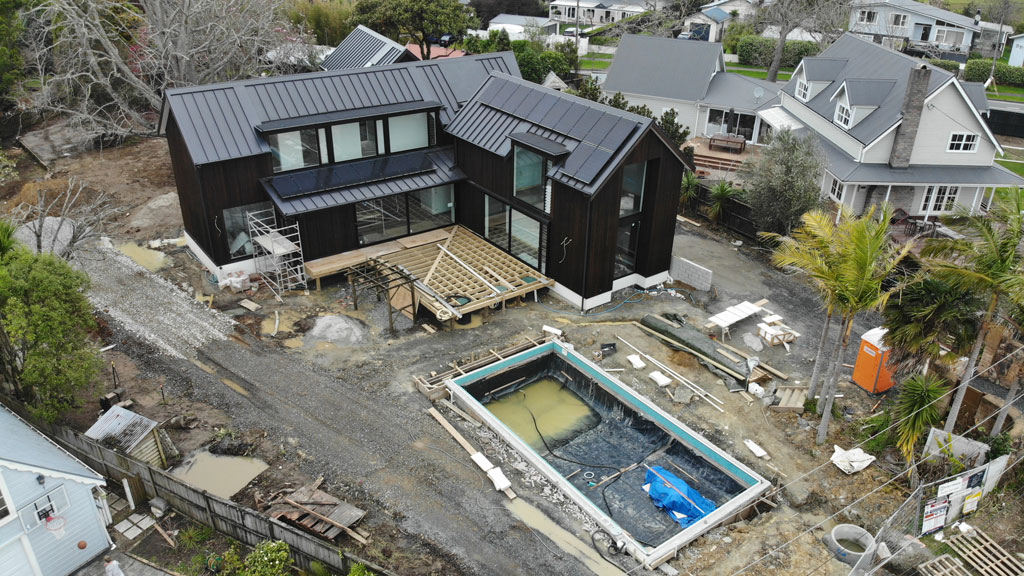 It is exciting to have a roof installed for a new build, or for a re-roofing job on an existing home or building. Choosing the colour of a new roof should not be done in haste, as there are aspects to consider that will help you to choose just the right colour for your new steel roof.
Fortunately, unlike other roofing materials such as asphalt and tile roofs that only have a few colour choices available, quality steel roofing from Johnson Roofing offers a wide range of COLORSTEEL® colours that are sure to perfectly match your home's exterior design.
Match Your Home's Exterior Design with The Right COLORSTEEL® Roof
The colour range available of steel roofing at Johnson Roofing is diverse and beautiful, just like the ever-changing landscape of New Zealand. From earth toned hues, to deep blues of the ocean water, vibrant greens that are found in local flora of New Zealand, to the whites and greys of the cloud filled skies, there is a full palette of colours to choose from that will not only blend naturally into your surroundings, but that will match you home's exterior design theme perfectly.
The best colour to choose for your steel roof should reflect your tastes, match your home's exterior design, as well as the environment that surrounds your property. Choosing a colour that inspires you is the best, that it why it is suggested to take your time viewing all of the COLORSTEEL® colours available to you, to find the one that inspires you in some way.
For example, a certain colour may remind you of fond family memories, a landscape that you adore, or one that highlights your home against a natural backdrop, such as mountains, the seashore, or stately tree-line.
If you are finding it difficult to choose among the many COLORSTEEL® colours available for your new steel roof, not to worry, our professional roofing experts can help you to find the best colour to match your exterior design, using colour charts. Here at Johnson Roofing, we take a personal approach in helping our clients by arranging and supplying samples for you.
Our roofing professionals can accompany you to take a more in-depth look at your exterior design, to help you to choose the correct steel roof colour for your home. For information about obtaining a sample COLORSTEEL® colour chart, please contact us today, at Johnson Roofing in Auckland.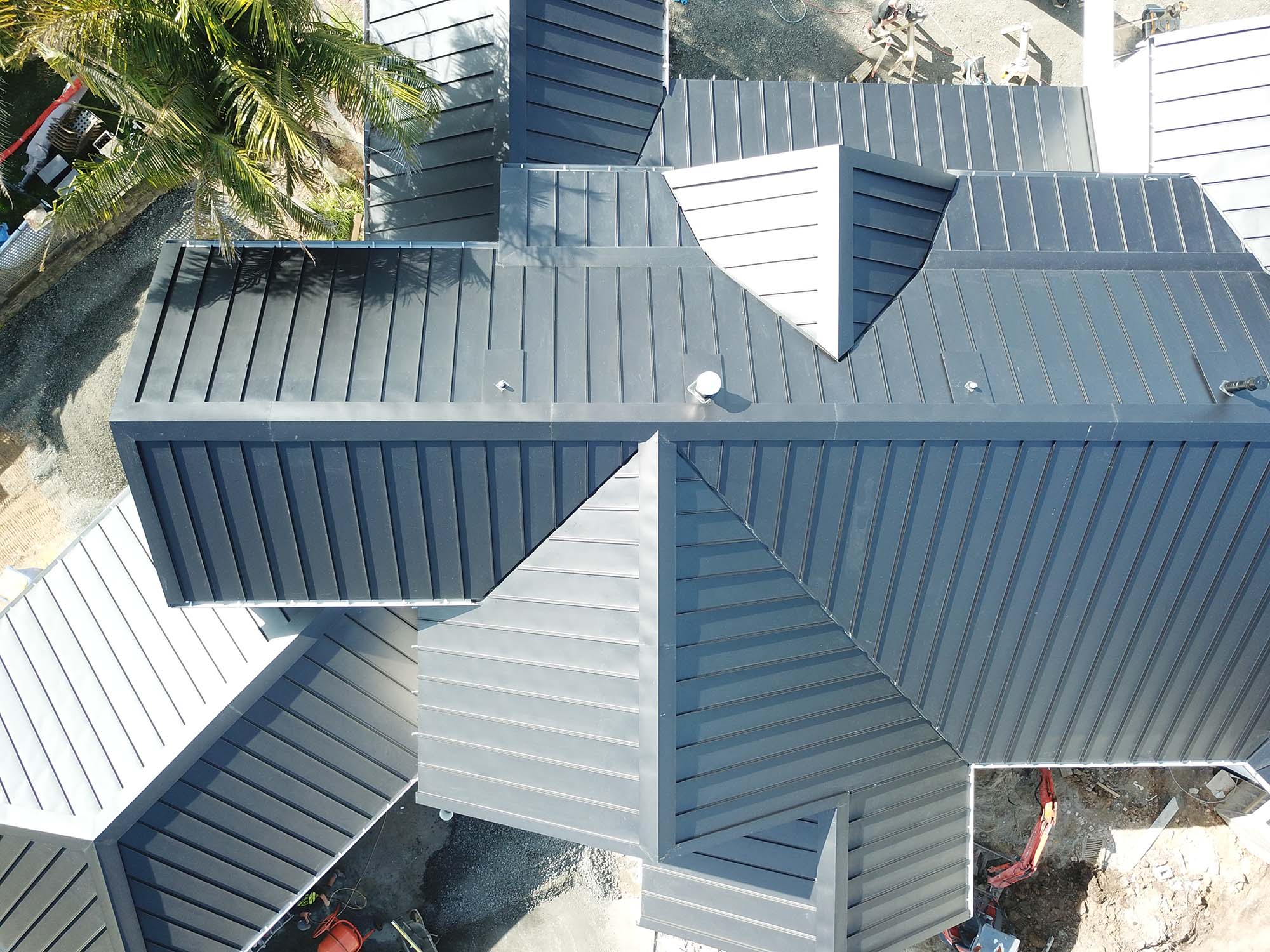 No item on the planet is great, regardless of how much cash it's worth or how well it's focused on. You could be in a fortunate circumstance where nothing at any point turns out badly with something you've bought or you could encounter at least one issues at some random time. Everything simply depends. Metal roofing is the same.
While factors are influencing the issues that could happen with a metal roofing framework, some of the time things simply happen that are outside human ability to control. This probably won't be the appropriate response you're searching for, however, realize that there will in general be fewer long haul issues related to metal roofing than black-top shingles or substantial tiles.
Canning
Apparent waviness in the level spaces of metal roofing and metal divider boards. In specialized terms, oil canning is alluded to as versatile clasping (all the more ordinarily known as "stress wrinkling"). It can happen in a metal board: steel, aluminium, zinc, or copper."
All things considered, oil canning is an intrinsic attribute of practically all metal rooftops/dividers. Consider oil canning as the metal on a standing crease metal framework being over-pushed and unfit to hold a level structure, which makes the metal yield and make apparent waves. Oil canning is easily probably the most sultry point in metal roofing since it tends to be hard to characterize and gauge.
Spilling
Let's face it: No one needs a defective rooftop. As well as paying extra for the rooftop to be fixed, as a rule, a hole can likewise destroy other important things in your home or building. Metal rooftop spills are a chance; some of which are tragically out of our control and some of which are because of human blunder.
Scraping and Scratching
Like whatever has a painting framework applied to it, metal roofing could be exposed to scratching or scraping anytime during its lifecycle. Most producers of metal curl play it safe to guarantee the loop isn't scratched during the cutting cycle, drawing back, or when it's being moved to the purchaser.
Furthermore, most workers for hire and installers regularly handle curls and boards with care during the move shaping and establishment measure. Yet, there is consistently the likelihood that at least one of these gatherings inappropriately handles the metal, prompting some sort of surface-level harm.
Consumption
Numerous individuals pick metal roofing since it shields against erosion and debasement for quite a long time which makes it the last rooftop they at any point need to buy. Makers and workers for hire can successfully assist you with picking a metal material that will best stand up to erosion in the climate your home or building is in.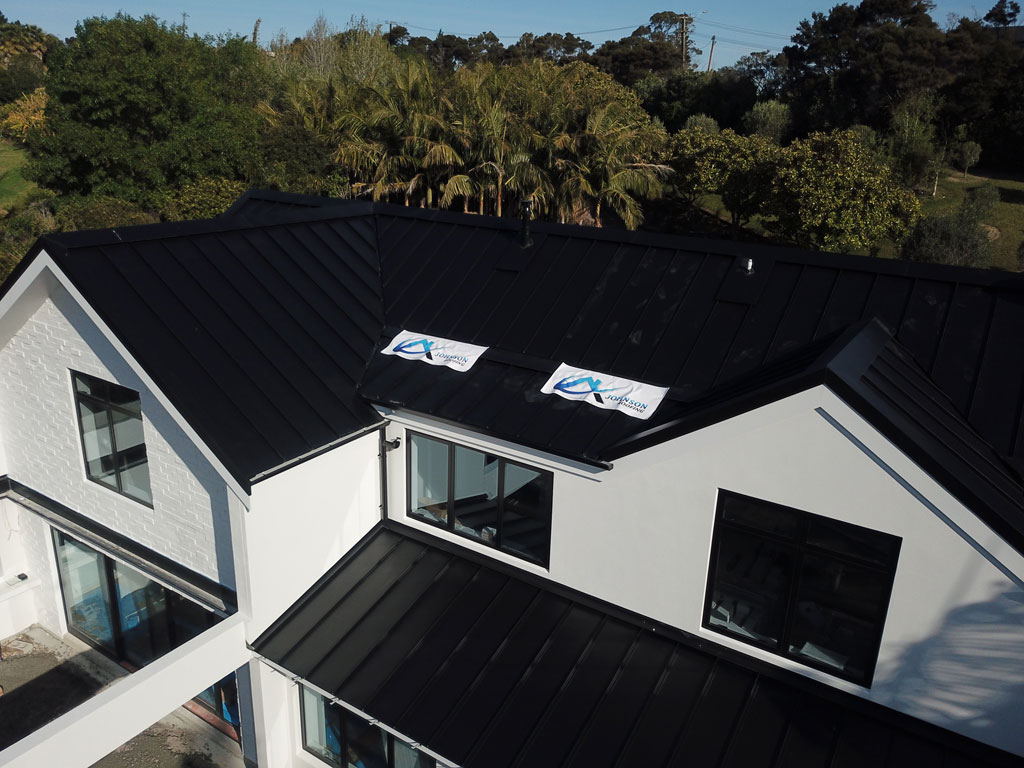 If you are worried about any roofing issues, for the safety of your family, then you are not alone. Thousands of home-owners eventually run into roofing problems of some kind, as the years pass, from weathering, physical damage and even from water damage. Anyone of these, or a combination of a few, is something to be concerned about. Unfortunately, most homeowners are unfamiliar with the basics of roofing and aren't sure how to keep their family out of harm's way, and their roof in good shape.
General Roofing Do's and Don'ts
Do Regular inspections
The principle rule for roof safety is regular inspections with the help of roofing experts. Weather conditions such as rain, wind and extreme heat from the sun will eventually put your roof at risk of causing cracks in shingles and tiles, and these need to be repaired immediately, less more serious damages to your roof develops. Something as simple as regular roof inspections can save you thousands of dollars by catching small problems before they develop into big repair costs.
Do Schedule Roof Inspection During the Summer
The best time to schedule a roof inspection is during the summer months, that way, if there is damage discovered and repairs needed then foul weather will not get in the way. Of course, roof inspections can be conducted any time of the year, especially when you suspect your roof is damaged in some way?
Don't Walk On The Roof For Roofing Safety
Avoid walking on the roof, if you suspect your roof has been damaged, and you want to inspect it yourself, roofing experts advise against this, for a few good reasons. The main reason is for the safety of you or any family member that attempts to climb onto the roof. No matter what roofing material you have chosen, the roof can become damaged by walking on it. Safety is number one, and roofers know how to inspect roofs safely, and when required can mount your roof and not cause any more damage than might already exist.
Don't Inspect and Repair Your Own Roof
Also, some old roofs have tiles or shingles that are slippery, and people have accidentally slipped and fallen off their roofs. This is something that can be avoided by hiring professional roofers to inspect and repair your roof, if needed.
Do Consult Professionals
For more information about roofing safety and roof inspections, feel free to call Johnson Roofing, we professional roofers who pride ourselves in offering high quality workmanship for both residential and commercial property.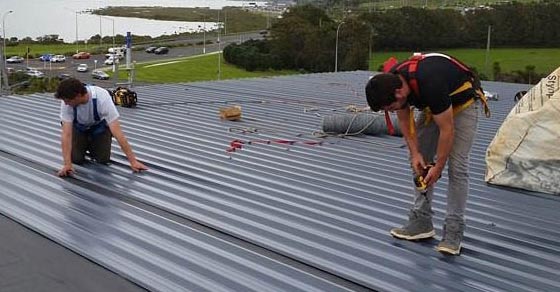 The whirlybird on several roofs is a turbine vent that fills in as a decent ventilation framework. This is looking like a barrel-shaped arch and is exceptionally intended to disperse the warmth from the roof to permit a consistent progression of air around the house. Each home requires a decent ventilation framework and introducing a whirlybird on your roof is a decent strategy for ventilating your home. How this works is that it comprises a semi-mechanical balance to turn the air. The turning activity of this part makes a vacuum to retain the warmth from the roof space. This successfully permits the cooler air to the whole roof. This article proceeds to clarify the benefits of introducing one.
How to Install Roof Whirly Birds?
Whirlybird installation on your roof is the ideal technique for ventilating your home and disposing of the hot air caught in the roof cavity. This kind of ventilation framework doesn't need an outer force source; they are impelled by the breeze. Here are a couple of tips on the best way to introduce it:
Introducing this on the roof implies penetrating an opening to fix it. It is essential to initially check you don't slice through any significant or dynamic line. First, plainly mark the area you intend to penetrate or saw and then just start the interaction of installation.
Cutting the particular area for the ventilator and introducing it isn't just the cycle. It is additionally critical to utilise caulking to stay away from a downpour or harming the roof. It is important to deal with the openings that are made during installation to forestall any spillage during the blustery season.
Benefits of Installing Roof Whirly Birds
Introducing whirlybirds will decrease the warmth that develops on the roof. The blistering summers in Australia can be very cruel, which brings about the roofs getting warm and additionally heat emanating into the house. This is a major energy saver since it will keep your home similarly cooler. The way that it is allowed to run and works with the assistance of wind is an additional benefit. It is the best answer for advance the course of natural air. It likewise assists with the issue of roof issues.
Why Consult Professionals for Roof Whirly Birds Installation?
Adequate ventilation is fundamental for each home to guarantee great air quality. It is fundamental for the great well-being and prosperity of your family. Awful house ventilation will likewise mean higher energy bills. Picking whirlybirds is a modest and successful arrangement. This is additionally a savvy arrangement. It is ideal to call the experts to have a whirlybird introduced on your roof since they can likewise assist with roof fix if the need be. Whirlybirds are accessible in different shadings like cream, dim, red, blue, and so forth Call the experts to introduce this kind of ventilator to guarantee your home remaining parts cooler and you can appreciate more noteworthy solace throughout the entire year with a decrease in ozone-depleting substances and lower energy costs.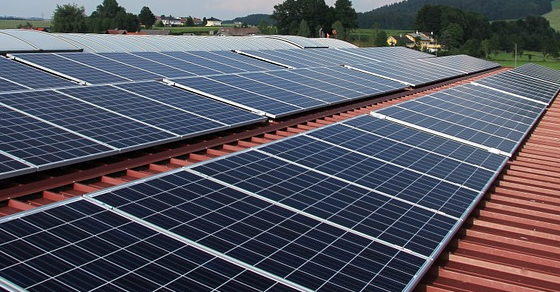 Next to peanut butter and jam, we aren't sure that there is a better combination than solar panels and metal roofing. Solar panels and metal roofing each have their own host of individual benefits that customers all over New Zealand have been able to appreciate. However, when you combine the two together you end up with something even better. Let's break down, point-by-point, why metal roofing and solar panels are so effective together.
At Johnson Roofing we have made it our business to help lead customers to the roofing solutions that they require while focusing on their budget and overall roofing quality. We've found that many customers in and around our service area are growing increasingly interested in installing solar panels along with metal roofing. For some reason, this combination is not as well-known as we would hope. Today, we are going to discuss how installing solar panels on a metal roof can lead to a host of different benefits.
Solar Panels Mount Easily On Metal Roofs
If you don't have metal roofing, you have to install your solar panels by drilling into your actual roof. This is obviously an issue with many homeowners. However, thanks to metal roofing mounting is easier than ever. There are multiple mounting options, such as quick mount systems, that can be implemented so as to install your solar panels without fear of damage.
Energy Efficiency Boosts The Effectiveness Of Solar Panels.
Metal roofs are already extremely energy efficient and this makes their pairing with solar panels even more beneficial. A reflective roof, such as metal roofing, will reduce temperatures at the point of contact on top of your home. A reduction in temperature means that your solar panels will operate more efficiently, thus extending your usage and the lifespan of your solar panels.
Metal Roofing and Solar Panels Make A Long-Lasting, Eco-Friendly Combo
Solar panels are revered for their longevity with most professional models lasting upwards of 25 to 30 years. Metal roofs are also one of the most durable ways that you can roof your home and this means that the roof will likely outlive your already long-lasting solar panels. Combined, you have a roof that only needs periodic maintenance in order to perform at peak efficiency for a prolonged period of time.
If these benefits have prepared you to take the solar plunge, now is a perfect time. Call up the office here at Johnson Roofing and our certified, professional technicians will guide you through the process.